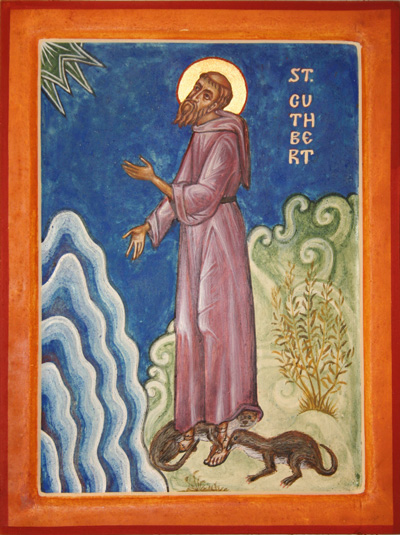 Today's Path orients us to the importance of seeking out good markers and guardrails.  Howie writes: " Finding reliable guides is essential. .... The best guides point away from themselves and toward the goal - on the physical path to safety and the way ahead, on the spiritual path, to Christ." (Sasser, Paths, 2019)
Jim considers the life, faithfulness, and testimony of St. Cuthbert. Cuthbert is perhaps the most beloved saint in Northern England. He was a devout man of prayer, a fearless missionary, especially to impoverished people, and a pious, obedient religious leader. In later life, he wrestled with striving to be a hermit and a bishop at the same time - not an easy feat.
Cuthbert became more venerated and admired following his mortal death. According to the Venerable Bede, Cuthbert's sarcophagus was opened eleven years after his death, his body was found to have been perfectly preserved or incorrupt.[30] Numerous miracles were attributed to his intercession and to intercessory prayer near his remains. Thousands of contemporary pilgrims travel to Cuthbert's tomb at Durham Cathedral.  
Jim is one such pilgrim. Jim traveled to Durham  a few years ago to attend a conference at Durham University's Centre for Social Justice and Community Action. His purpose was to learn more about Action Research and how to use it in his ministries. While in Durham he and Howie visited Durham Cathedral.  It was a transformational and defining moment in Jim's life.  It happened at sunset in the Chapel of Nine Altars as the cathedral was closing for the night. He recounts some of that experience on this podcast. 
It is important for pilgrims to occasionally look back upon the paths they have traveled to recall and offer thanks for the guides - pragmatic and transcendent who shape our lives and our purpose for living. The podcast's purpose is to shine the light upon one such Saint, Cuthbert, who indeed points toward Christ and opportunities for living a memorable, hopeful life that shared God's love with neighbors and creation alike.
Blessings along The Way, Jim